WATER SPORTS
The waters of Lake Maggiore lend are a place for great adventures in canoe or kayak. You can travel long distances surrounded by natural landscapes of rare beauty.The numerous steep streams of the valleys of Verbano Cusio Ossola attract rafting lovers. Rafting ins one of the most practiced sport  in these parts both by locals and tourists. It's a great experience of descending along the rapid streams in the wilderness.
Lake Maggiore offers many opportunities also for all those who love sailing, water, wind and for those who have always wanted to drive a boat. Here you can get closer to the philosophy of a certain lifestyle where it becomes essential to respect nature, get away from the frenzy life, feel part of a world that is bigger than us, become one with the rest of the crew and much more.
Here we mention some clubs that promote water sports in our territory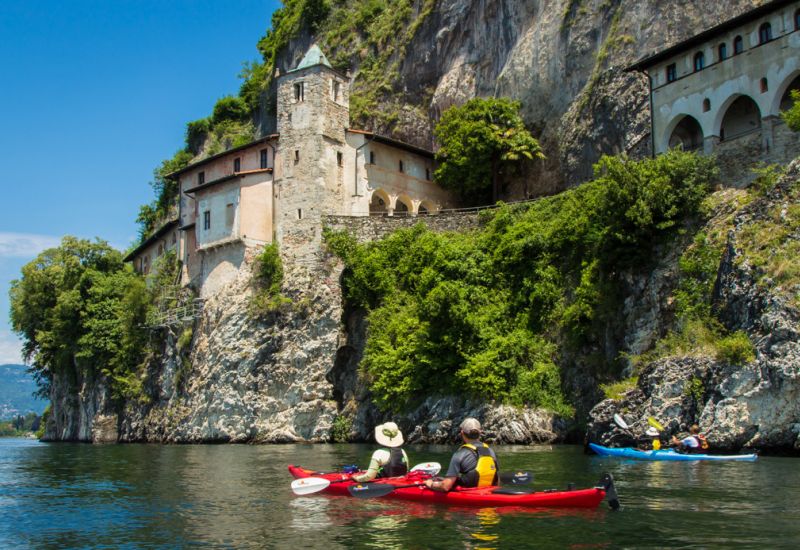 Società Canottieri Pallanza

Viale Tonolli Vittorio, 19 Verbania

Kayak Club Valdossola

Frazione Piedilago - Premia
Centro vela Lago Maggiore

via Pescatori 6 - 21014 Cerro di Laveno

Verbano Yacht Club

Via Sempione, 68 - 28834 Carciano di Stresa

Tommy Sail & his Staff

Via Gerboso, 1 - 21018 Lisanza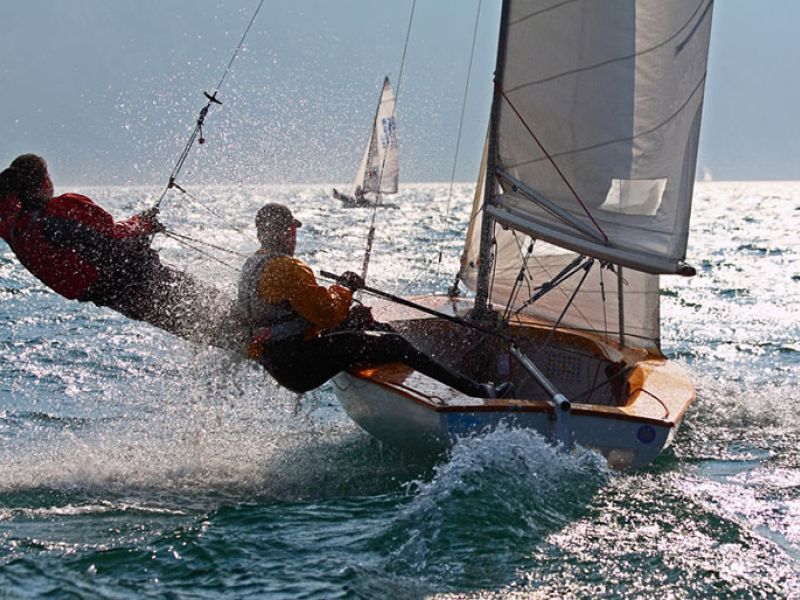 CABLEWAYS & FLIGHTS
You can admire, in the solemn silence of nature, a magnificent and enchanting panorama of Lake Maggiore, the Alps, the Pre-Alps, the Lombard lakes and the Po Valley.
Essentially that is what the Lake Maggiore Zipline is, a thrill that glides on a thread and gifts the emotion of flying.
Cableways of Mount Sasso del Ferro
Via Don C. Tinelli 15 - 21014, Laveno Mombello
This cableway is the only way to reach the Sasso del Ferro and its infrastructures. You can climb from Laveno Mombello with a system of comfortable open and closed two-seater gondolas, almost to the top of Mount Sasso del Ferro, about 1100 meters high. Duration is about 10 minutes.
Mottarone cableway
Piazzale Lido, 8 - 28838 Stresa
The facility offers a wide choice for various activities. You can enjoy the scenic routes, ride downhill, and have the 360 degree panoramic view.
From 09.30 to 12.30 and from 13.30 to 17.30, a cable car leaves Stresa every 20 minutes. The cable car takes 10 minutes to climb the Stresa-Alpine section and Alpino-Mottarone, another 10 minutes. In 20 minutes the cable car will reach 1,491 metres above sea level. The return cable car from Mottarone-Stresa will leave every 20 minutes, from 9.40 a.m. to 11.40 a.m., and from 12.40 to 5.40 p.m.
The full round-trip fare for the full Stresa-Mottarone route is €19.00, the reduced fare is €12.00. The price for the one way Stresa-Mottarone will be 11,50€, the reduced one will be 7,00€. The reduction concerns children from 4 to 12 years old.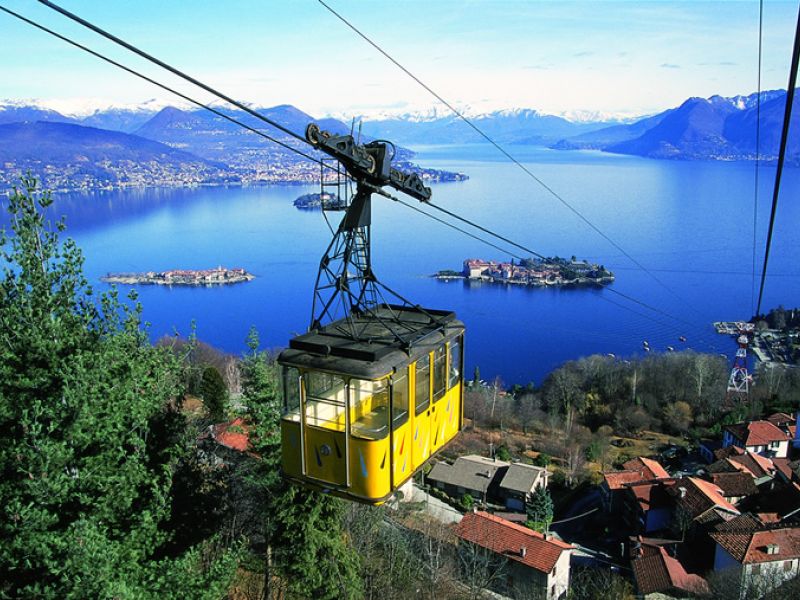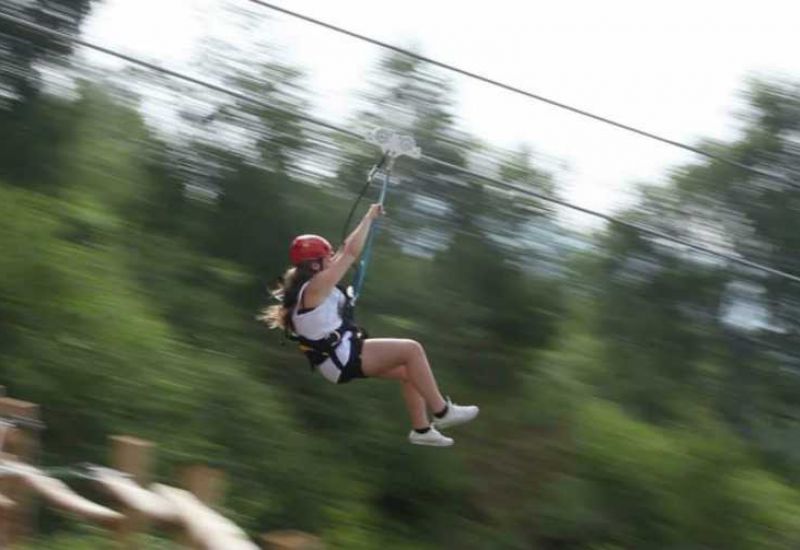 Zipline flight
Località Alpe Segletta - 28812 Aurano
The Zipline is a steel cable anchored between two points at different altitudes from which one descends safely at high speed, providing the sensation of free flight. The difference from Zipline from other ways of flight without an engine is that the Zipline is affordable to everybody; no specialist equipment, no particular skills or fitness preparations are required.
This experience faces the splendid panorama of Lake Maggiore, surrounded by the greenery of Valle Intrasca, wrapped up in the emotion of flying.
As the crow flies, the distance from Pian d'Arla (1.307 meters altitude / 4.290 feet) to Alpe Segletta (960 m altitude / 3.150 ft) is 1.850 meters (6.070 ft) to be covered in just over 90 seconds flying at the speed of over 120 km/h (75mph) firmly latched on to a cable.
Hang glider flights
Lake Maggiore is the right place to savour the experience of flying like a bird. You will discover what does it mean to soar, turn, climb and dive, reassured by the  professional pilots. A magical panorama of Lake Maggiore is the ideal location for great adventures. Try a tandem flight in a hang glider or paraglider on Lake Maggiore!
The whole experience will last about a couple of hours, while the actual flight time will be about 15-30 minutes, depending on weather conditions.
The advice is to go to the meeting point in comfortable clothing according to the season (jeans and sweatshirt), a kway jacket, sunglasses, a good pair of gloves and mountain boots. Flights can be done all year round, weather permitting, but of course it is better in hot periods.
You don't need experience, you just need the desire to "feel free". You will experience an emotion that you will remember forever and that you can relive every time you want thanks to the video that can be made for you. Places at Laveno to experiense flights:
delta club Laveno
Vicolo Molino, 21 - 21014 Mombello
wefly
Via Cittiglio, 1 - 21014 Laveno-Mombello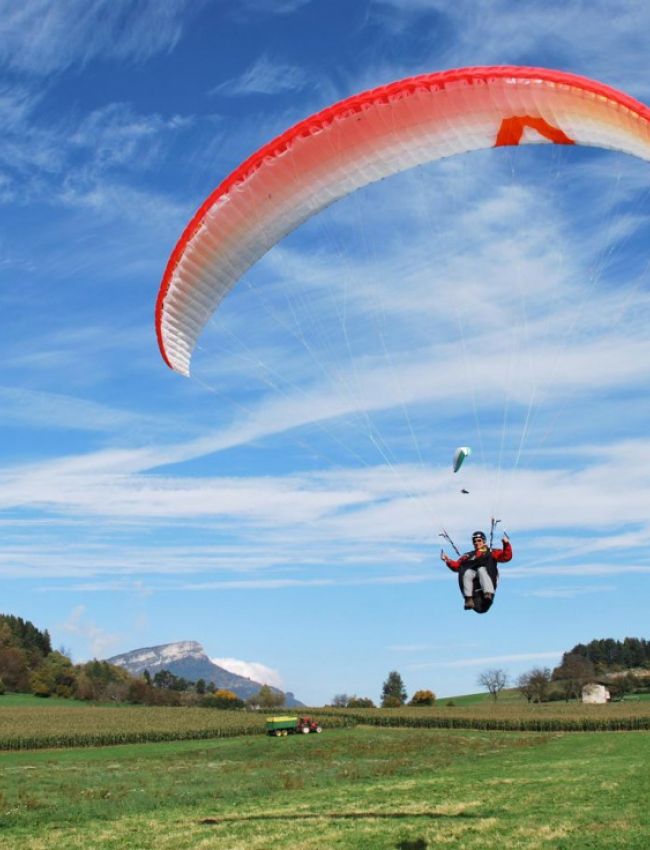 ADVENTURE PARKS
The landscape of Lake Maggiore offers a unique and exciting way to live in contact with nature.
The paths of the adventure parks are suitable for every type of adventurer and insure a total safety. It's another good opportunity to enjoy time together in a healthy and fun way.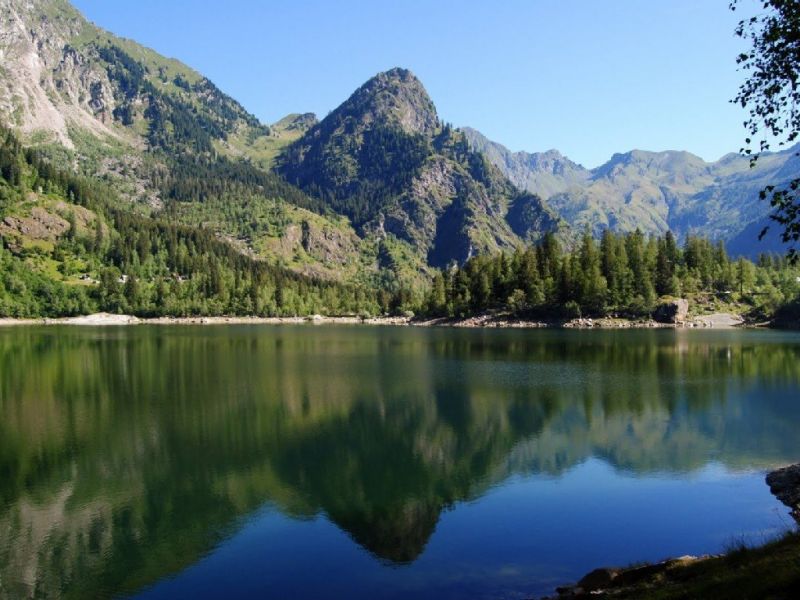 Val Grande National Park
The Val Grande National Park in the province of Verbano Cusio Ossola, is a larger area of geological interest that has become part of the world network of geoparks, under the patronage of UNESCO.
It is the largest wilderness area in Italy, a stone's throw from civilization. A unique valley, where nature is slowly recovering its spaces, where endless forests, transparent waters and uncontested silences accompany our every step. A sanctuary of the environment, to be visited with absolute respect. But Val Grande is also history. The long story of a mountain civilization narrated by the places and people of the villages that surround this area between Ossola, Verbano, Val Vigezzo, Valle Intrasca and Cannobina.
Praudina Adventure Park
Santa Maria Maggiore, Verbania
Praudina Adventure Park in the area of Pineta in Santa Maria Maggiore – the green heart of Valle Vigezzo.
The Valle Vigezzo adventure park is constantly improving and periodically proposes new features and structural implementations: since 2017 there is also a real climbing wall in the park with the presence of mountain guides! To access the Praudina Adventure Park, children must be at least 6 years old and have a minimum height of 1 meter and 10 cm. For the climbing wall it is sufficient that they are at least 5 years old.
Children are free to enjoy their adventure experience at the Praudina Adventure Park without any worries: maximum safety will always be guaranteed by the presence of a qualified instructors and modern safety equipment on site.
Not to be missed are the night-time experiences, to live moments of adrenaline and fun under the light of the stars and the moon.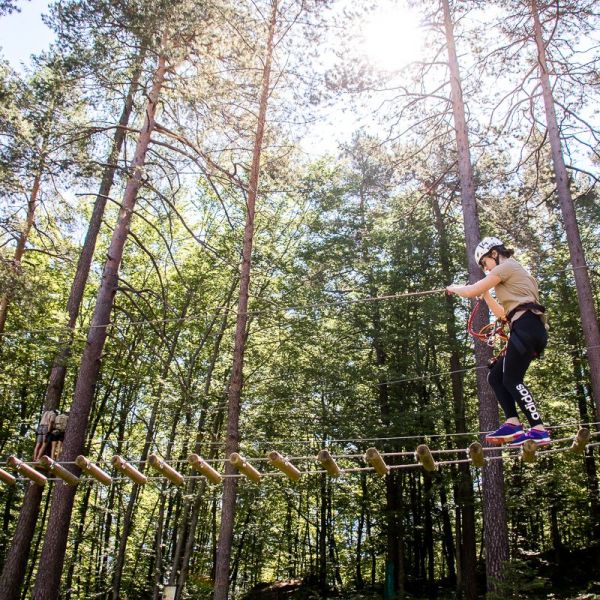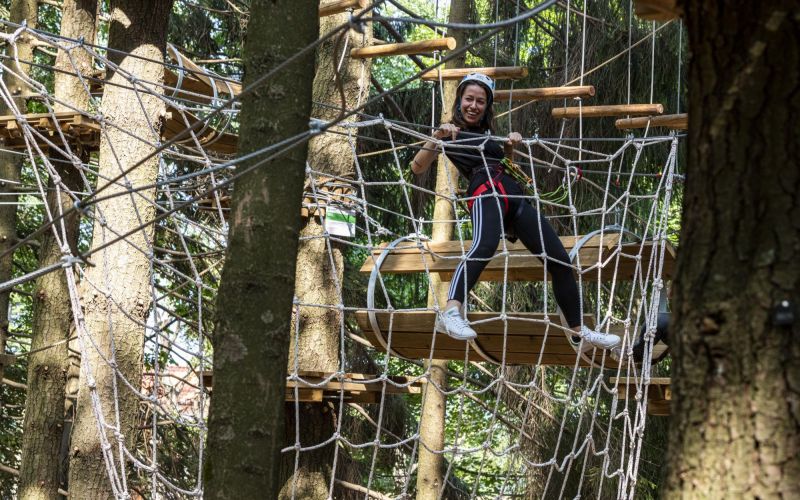 Mottarone Adventure Park
Santa Maria Maggiore, Verbania
The Mottarone Adventure Park is a new attraction of Lake Maggiore where adventure and fun combine with the desire to rediscover nature. In the Park there are 4 trails with different levels of difficulty from 3 years of age. Ideal to spend an exciting day with family and friends, in total safety thanks to the continuous life line system.
Golf Clubs
The Lake Maggiore landscape is often called a golfer's paradise because of its long stretches of greenery and lush vegetation. This area has inspired some of the leading international golf course designers, who have left their signature on a few of Lake Maggiore's courses.
All the courses are easily accessible and are located within a few kilometres of each other so that you can play on multiple courses over the course of one holiday.
Here you can play on championship holes and courses with enchanting views of the mountains and lake, tranquil scenery that helps you to concentrate.
Check up closest to us Lake Maggiore Golf Clubs

Arona Golf Club
Arona Golf was born in 1999 as a driving range with 18 covered positions and with the vocation to create new golfers. In 2003, the nine-hole Par 68 course was inaugurated and then transformed into a Par 70 with double starts. The course is flat and develops on a natural territory among woods and lakes that differentiate each hole in an original way.
Golf Club Varese
Via Vittorio Veneto, 59 - Luvinate (VA)

Varese Golf Club, founded in 1897, was established in its current site in Luvinate in 1934. The course, originally designed by architects Gannon and Blanford and expanded to 18 holes in the mid-1950s, is an undulating, technically interesting par-72 course.
Every hole, surrounded by the green of ancient, majestic plants, offers incomparably beautiful views that embrace Monte Rosa, the Maggiore, Varese and Monate lakes, as well as the hills of the Sacro Monte and Campo dei Fiori, which is directly behind the golf course. The proximity of the Prealps and the altitude of 425 m above sea level ensure a pleasant climate all year round.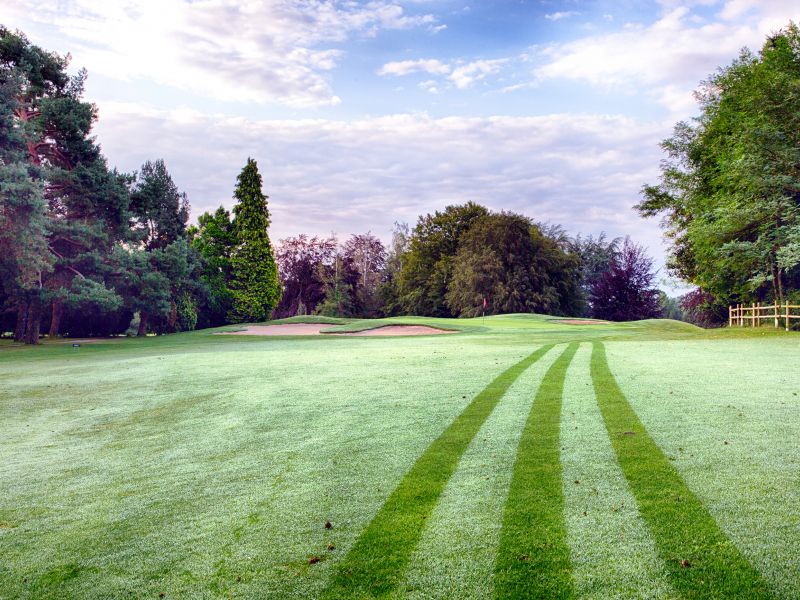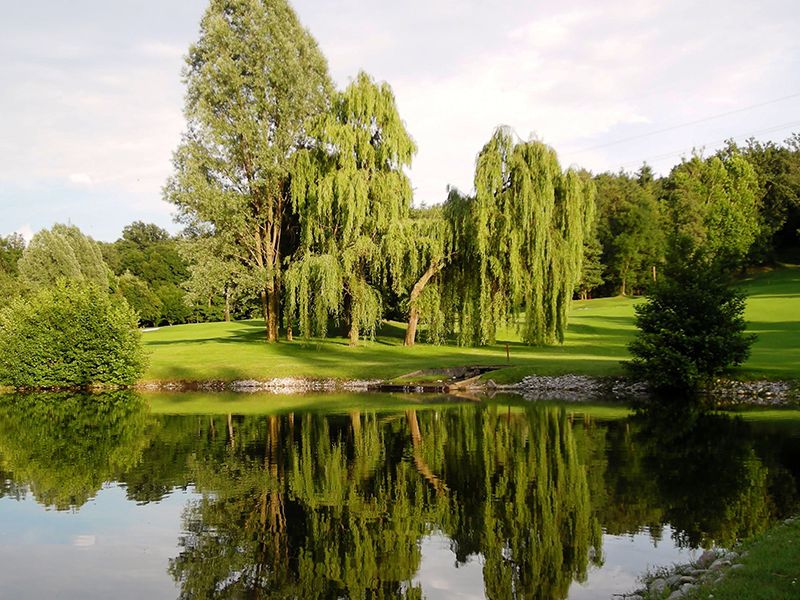 Golf dei Laghi
Via P. Trevisani, 926 - Travedona Monate (VA)

Designed by the architect Piero Mancinelli, Golf dei Laghi was opened in 1993. It is not a particularly long course, but many natural hazards (trees, lakes and streams) require players to take special attention over their shots.
The design of the course allows you to play two, six, nine or eighteen holes, always finishing near the club house.The undulating, hilly course offers breathtaking views of Monte Rosa and Lake Maggiore, making the game exciting and enjoyable for players of all levels, requiring attention and strategy.